Firefighters Radio Program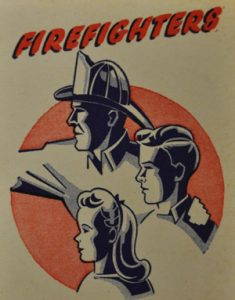 A Spark of Imagination
In 1937, Bill Holland founded William. F Holland Company. And in the 1940's, Holland identified a serious fire problem causing not only home and business owners to lose possessions, but large amounts of money. More staggering though was the number of injuries and deaths due to fires. Determined to do something about it—Bill Holland wrote and produced a radio program to promote fire safety.
Firefighters was the name of the radio program and it had a total of 140 fifteen-minute episodes that aired on early primetime WCPO radio during the late 1940's and ended in 1950.
It was a first class radio production heard across the country. In fact, its popularity coined the term "firefighter" to be used in place of "fireman."
Forged in Fire
Although there were fearful growing pains within William F. Holland Company, Bill Holland wrote and produced Firefighters at NBC Radio-Recording Division in New York City.
Firefighters dramatized actual case histories of real Fire Departments. Its virile story line includes forest fires, waterfront fires, and industrial and oil fires. It thoroughly explores arson, keeps interest high with freak fires and unusual settings. It is authentic in every detail, from Fire Department hazing of new members to the employment of newest firefighting techniques and equipment.
During its run, the Firefighters story followed the heroic adventures of the rookie firefighter, Tim Collins, who completed firefighter training after returning from World War II. Each episode focused on a particular fire emergency Tim and his fellow firefighters had to face. At the end of each episode the character, Fire Chief Bob Cody (portrayed by future Tony Award Nominee Cameron Prud'Homme) spoke to listeners directly about fire safety.
Listen to the first twelve episodes located in the embedded media player!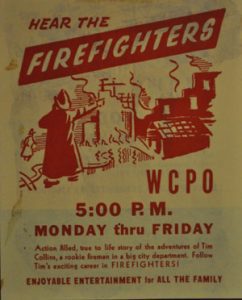 Fire Safety Spreads Into Homes Across the Nation
To spread the message of fire safety further than the reach of radio waves, young listeners were invited to join the Junior Firefighters Kids Club. Children would apply to this club by mailing in their answers to a few questions about fire safety. If they answered the questions correctly they earned the rank of "Rookie Firefighter" and were sent a red firefighter's hat.
Club members had the opportunity to earn badges just like Boy Scouts, Girl Scouts, and our Cincinnati Fire Museum mobile app users.
To gain rank from "Rookie" to "Junior Fire Chief," club members performed tasks and answered questions.
This enabled children to become more like the heroes they heard about on the Firefighters Radio Program and taught them more about fire prevention.
Special events were organized for participants in the Junior Firefighters Club including several Variety Shows at the Sinton Hotel.
Shows featured a speech from the Cincinnati Mayor, a fire prevention message delivered by members of the Cincinnati Fire Department, a short film showing firefighters in action, live music, and other entertainment.
Additional events included zoo outings, fire station visits, and Coast Guard tours.
Burning Up the Charts
Broadcasted over more than 225 radio stations.
Sponsored locally in Cincinnati by Fisher's Bakery.
In 1947, Bill Holland's son, Earl Holland, joins the agency and begins selling even more sponsorships for the radio program.
Soon, Firefighters was syndicated in over 225 markets in the United States and Canada and outranked national network radio shows like Lone Ranger and Sky King in Cincinnati.
A Light That Will Never Go Out
In 1949, Cincinnati Fire Chief Barney J. Houston commended William F. Holland Company for Firefighters. The radio program, Chief Houston believed, was directly responsible for a 20% reduction in false alarms. Additionally, Chief Houston noted his Fire Inspectors found the removal of common fire hazards in homes of Junior Firefighters.
To this day, Firefighters is considered an important contribution to public fire safety awareness around the country.
William F. Holland Company is now known as Holland Advertising: Interactive. However, the agency is still doing their part spreading the message of fire safety through continued marketing efforts. Bill's grandsons, Mark and Bryan, are now partners in the business. Together, they have led the charge in helping the Cincinnati Fire Museum by developing a new brand and other marketing strategies. Their goal is to educate museumgoers about fire safety through an exciting and interactive experience found in their Cincinnati Fire Museum App.
Mark Holland also serves on the Cincinnati Fire Museum Board of Directors.